One a force regarded as
mercilessly destructive
and
unstoppable
, the other a BFG [Big
F#*+ing
Gun]-wielding Gundam (with a
sword-wielding twin a-la Toymaker
).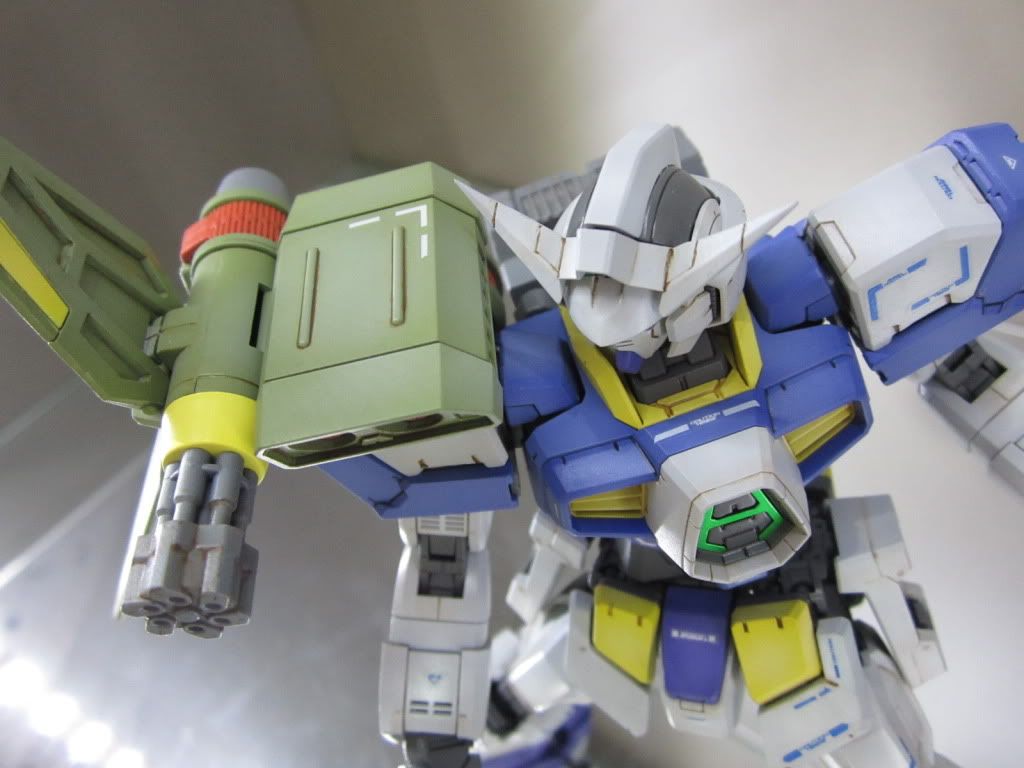 Lets start with the Amphion, the base kit is the MG AGE-1 Normal and the weapon set of MG Launcher/Sword Strike Gundam. The first thing that drew me in would be the muted colour tones. The pastel blue and yellow gave the [A] on the chest the chance to really 'pop', which in my opinion is one of the most prominent feature of the AGE series Gundams. The kit bash of the MG Strike Launcher set is flawless and decals from the 00 line seems oddly at home with Amphion. Brown panel lines adorning the whole kit is part of the charm that gives the Amphion a weathered look without going overboard.
Now the big guy, Titus Heavyarms aka the Juggernaut, MG AGE-1 Titus with gattling guns from Kotobukiya. This kit gave a whole new meaning to heavy arms, big shoulder, big arms, big fists, big gattlings on the side, heavy is an understatement. Waylander's attempt to give this kit a more aggressive look works for me (and most of the GAF community). He covered the kit with a more subtle grey and muted red, which in my opinion makes it look less bulky. A humble amount of decals fits perfectly with his concept
Clickety to check out his
Amphion
and
Juggernaut
. Other than that, have a whirl around
The Catapult
to see what our members have been up to.
That is all till the next post!!